Welcome to session five of the
RISE UP Method of Postpartum Stress Relief
Tools for stress-reduction – the RISE UP method of stress relief
Included in this session: an audio file, a RISE UP handout and balancing exercises, and a quiz
Listen to the audio, familiarize yourself with the information at the links provided, and answer the quiz at the bottom to be sent the next session.
If at any point you feel triggered or stressed during this session please contact me immediately via email: Lori@BirthingPeaceWithin.com
---
This tool is one that I found works well for people who are taking steps to RISE UP and become *that person* – the one with extra energy, enviable relationships, and stronger healthier boundaries.
We do that on several levels by letting go of our "shoulda's/woulda's/coulda's"
Choose ONE of the past challenges that has come up for you during these sessions. Pick one time when you can easily fill in the blank in this sentence:
I should have done _________, I *still* can't believe I did that! 
It is ok if you think of more than one… write the others down, come back to them later, just use the same tool again – got it?
Do you have your one?
Below is the RISE UP tool for release to help along the way.
What do you do with it?
Choose your one "shoulda' challenge" from above
grab a pencil or pen
sit down for 10 minutes with the audio
pause the audio to work as needed
RISE UP , repeat!
Do one session all of the way through, and familiarize yourself with the concepts in the audio to help you prepare for some of the deep work we will do when we are together.
Click here, download and PRINT ME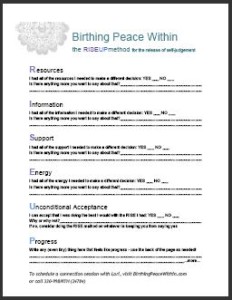 RISE UP release 
Any time we become angry at ourselves for not knowing more, doing more, or being too tired to deal with it all we are missing one piece (or several!) of the RISE UP release we need to move on…
Resources
Resources can be a lack of anything we would have needed to make different choices…even if that is not enough money to hire help – for our birth it was a different caregiver, a doula, the midwife you wanted, etc. Now as the kids get older it is housekeepers, drivers, and personal shoppers! 😉
Sometimes it is not enough time to do the research you now wish you had done, or different options of caregivers or facilities in your area.
Information
You were doing the best you could with the information you had at the time. You might have had more information even a few minutes later, but you were deciding with the information you had *right then* – in other words, you always are doing the best you can. Always. It may look really sucky to you from the future, or to someone else from the 'outside' but it is the info you have. You can't do what you don't know yet!
Support
Problem:
You don't know who to talk to, people don't know how to help
You have nobody to help get you out of the place you were in once you decided you didn't want to be there – others feel they are doing what is best for you and think they are helping. They probably need a RISE session, too!
Energy
This one is pretty common – we often run into this one when we have been without the other RISE steps for too long – there is only so much we can do, and so much energy to go around. We can wish it weren't the case, but when the battery is dead, it is just dead.
Try the exercises in this handout to 'give yourself' a bit of energy anytime you need it. It is written with postpartum moms in mind, but the thoughts and exercises are applicable to anyone looking for a bit more 'juice' to carry them through.
A really exciting part of this is the UP part of RISE UP
Unconditional acceptance
People freak a bit when they see this one – I am NOT asking you to simply unconditionally accept everything, I am asking you to look at what keeps you from accepting it – Accepting where we are and what we chose doesn't mean we don't want to do better.
While the RISE part will help us realize why we are doing what we are doing, the U is imagining that we can see ourselves accepting that we really did the best we could with the RISE items we had at that moment. Of course we couldn't do ANYTHING more!
Write down everything that keeps you from Unconditional Acceptance and do the RISE steps on each one.  
Progress
It is so important to acknowledge the progress we have made – maybe it was only checking off some of the items above – write it down and celebrate it!
Maybe you felt a bit of a shift and things are feeling more doable – write that down and celebrate it. Don't worry if you have a 'down' – remember your RISE tools and give yourself a break! Reach out – you are not alone!